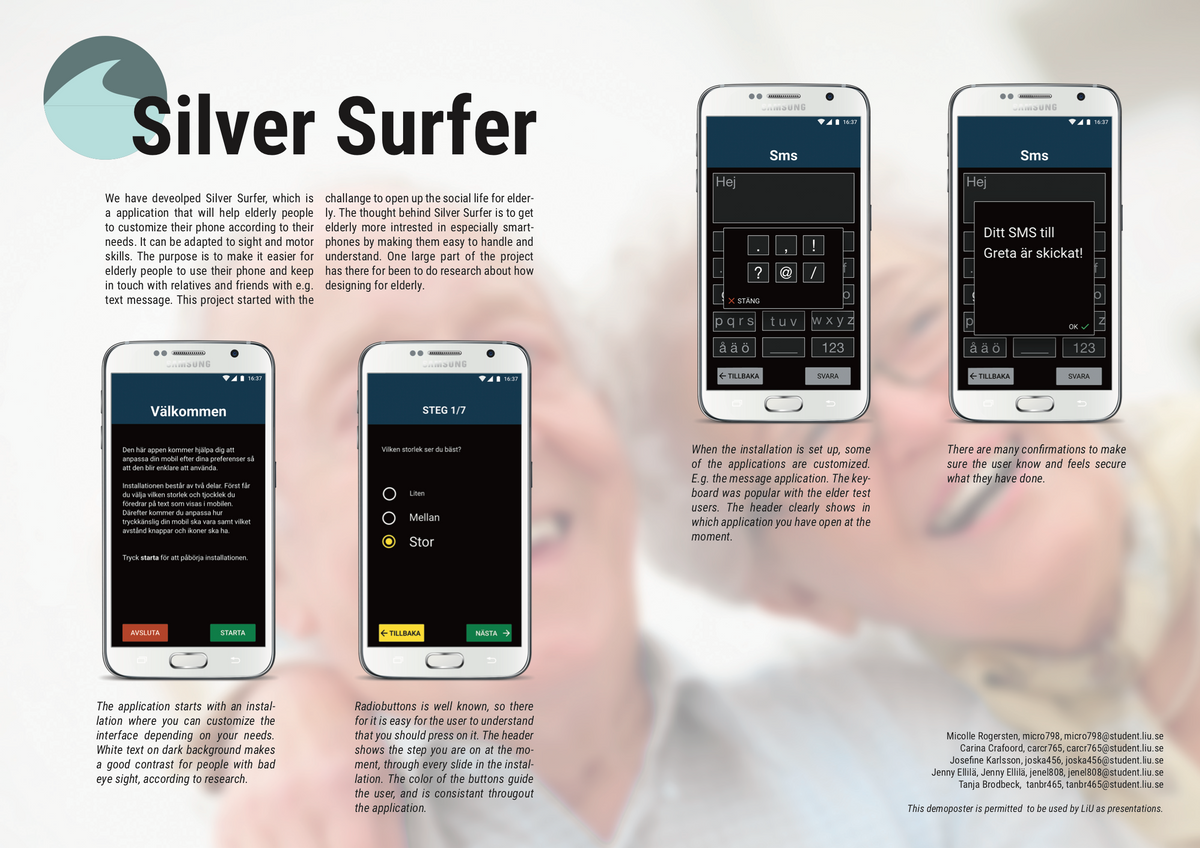 The Task
Within the Graphic Design and Communication studies during my foreign semester at the University of Linköping, we have deveolped Silver Surfer, which is a application that will help elderly people to customize their phone according to their needs. It can be adapted to sight and motor skills. The purpose is to make it easier for elderly people to use their phone and keep in touch with relatives and friends with e.g. text message.
The concept and design of Silver Surfer is the result of a group work with the following team members: Carina Crafoord, Jenny Ellilä, Josefine Karlsson, Micolle Rogersten, Emma Wik, and myself, Tanja Brodbeck.
The group members had different priorities in the context of concept and design work:
– Project Leader: Carina Crafoord
– Concept designer: Jenny Ellilä and Carina Crafoord
– User researcher: Emma Wik and Josefine Karlsson
– Low-fi designer: Emma Wik and myself
– High-fi designer: Micolle Rogersten
Choosing the best concept
Using brain storming methods and creativity techniques, each participant in our group developed one or even several concepts to work against the isolation and loneliness of older people. We then tested each of these concepts for specific factors using a pugh-chart. 
The final idea
Our concept of Android Silver Surfer / iOS S is basically a downloadable software for Android or iOS, focused on simple usability mainly for the elderly. The interface is customized for specific need e.g. big, with high contrast and few options and buttons. It supports several functions that could lead to easier communication. The user should not feel overwhelmed by the technology, but should instead be encouraged to use it. It should provide a positive user experience and increase the self-esteem and confidence of elderly in using new technology. This provides the possibility to open up the social life and prevent loneliness.

Some values and features that make up Android Silver Surfer:
– Customizable for specific needs
– Simple interface
– Easy to handle and understand
– Make communication accessible
– Make users feel included and up to date with technology
The target group
Our target group, elderly people interested in digital products and possibilities, would use our product concept since they are able to see how new technology provides new ways to communicate and therefor improve their social life in the society which is built on technology. With Android Silver Surfer they get the opportunity to become a part of the modern society.

At the beginning, even before the creation of our concepts, we wanted to promote empathy with the user group of older people and visited a senior citizens' meeting place of the city of Norrköping in Sweden. At this point I had an observing character and photographed the place to get a feeling for the environment for elderly people who like to surround themselves in this place with other people and seek contact. The rest of my group conducted interviews in Swedish with some elderly people at the senior citizens' meeting point. Although a large part of the population in Sweden speaks very good English- however, at the senior citizens' meeting place only few spoke English, so I could unfortunately only participate in one single English-language interview here.

After this little field research, we developed an interview guide to interview our acquaintances about their behaviour and needs in relation to new technologies and their social contacts. Here I particularly noticed the cultural differences between Sweden and Germany when the other group members reported their experiences. In Scandinavia, many more older people are already using new technologies such as smartphones and tablets. In Germany, on the other hand, older people are critical of this topic. This starting position enabled me to ask the question why in the right places more often: Why should older smartphones use them here, what is the benefit? 
Persona
Based on this main question and our impressions from the interviews, we developed three different personas. 
- Anja Östergren is a 26-year-old young, dynamic woman who lives far away from her grandmother in Nacka (Stockholm). Anja would like to convey love and presence to her across the distance.
- Bertil Svensson is a 73-year-old widower with two daughters living in a suburb of Gothenburg. He is open to using new technology if he can simply establish contact with his family or friends. Although he does not fully admit to himself, he is overwhelmed with his smartphone and has difficulty sending a text message.
- Jan Abrahamsson is a 74-year-old pensioner who lives with his wife in an apartment in Norrköping. He is very critical of new technology, but still wants to get in touch with his family members quickly and easily.
Storyboards
We created a storyboard of our concept to visualize the idea and the benefit for our target group of Silver Surfer and to communicate it understandably in order to get ongoing feedback from lecturers, fellow students and older people (first storyboard in the gallery below).
Mostly I created the storyboards based on the personas. My goal with the artifacts was to visualize the emotions and needs of the persona and make them understandable. In this way we were able to build empathy and refer to our target group again and again during the design process.
The design– and interaction concept
Based on the feedback we received from the user tests with paper prototypes, we created a click prototype. We adapted the Google Material Design so that older people can read and use it well - even if they have visual impairments or motor limitations. To ensure this and to take into account the personal circumstances of every elderly person, the first step in installing the Android SilverSurfer operating system is to do an onboarding. 
The steps of this can be found in Swedish in the prototype (Adobe XD web version).
The individual steps can be summarized as follows: The installation consists of two parts. You can choose what size and type of text you want to see in mobile. After that you will adjust how pressure-economical your mobile should be, since elderly people tend to press longer and harder like they are used to from using real haptic buttons.